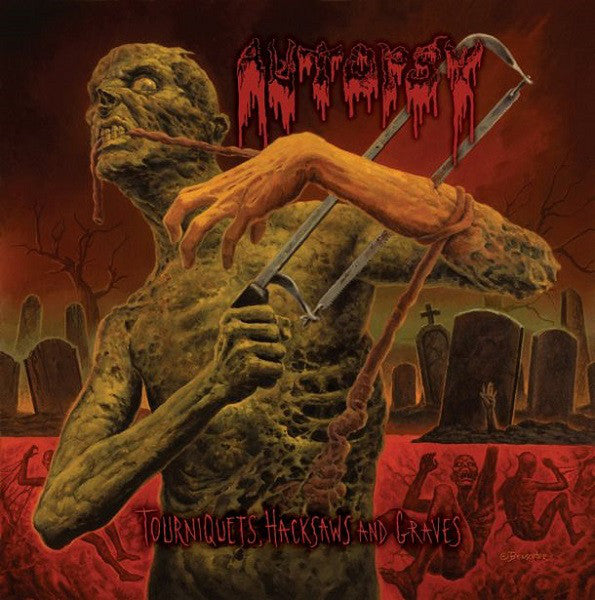 Peaceville Records
AUTOPSY - 2014 - Tourniquets, Hacksaws And Graves CD
---
CD, Peaceville Records, Jewel case w/clear tray, 16 page booklet, 2014 / 2018 Reissue

US Death Metal
""
Mid-price CD edition of the seventh studio album - a relentless onslaught of dual guitar mastery & vocals from beyond the grave.
One of the early breed of US death metal acts, Autopsy formed in 1987 in San Francisco, & released 4 albums on Peaceville Records - beginning with the classic debut 'Severed Survival' in 1989 - before disbanding in 1995, with members going on to form Abscess. Autopsy triumphantly and officially returned from the grave after a 15 year hiatus with the 2010 EP, 'The Tomb Within'. This was followed by the release of the band's fifth studio album, 'Macabre Eternal' in 2011, to great acclaim, as well as last year's sinister opus 'The Headless Ritual'. 
Tourniquets, Hacksaws & Graves was recorded at Fantasy Studios with producer Adam Munoz and sees a continuation of Autopsy's pursuit of the ultimate in metallic horror and extremity, combining the masterful guitar duo of Eric Cutler and Danny Coralles with Joe Trevisano on bass duties. From all-out death metal savagery to crawling, doom-filled sludgery, with Chris Reifert's distinctive brand of vocal sickness, Tourniquets, Hacksaws & Graves further pushes the limits of taste and brutality. 
Artwork comes courtesy of Wes Benscoter, who was also previously responsible for the stunning 'Macabre Eternal' album cover. 
"TOURNIQUETS TIGHTEN....HACKSAWS RIP.....GRAVES ARE FILLED.....THIS IS AUTOPSY, THIS IS DEATH METAL.... With the stench of 'The Headless Ritual' still permeating the befouled air, Autopsy has once again come for your very metal soul with their newest blood soaked homage to all things dark, twisted and horrific....once again bone crushingly heavy nightmares await....'Tourniquets, Hacksaws and Graves' will awaken the most depraved part of the coldest zombie's stare.....blood will flow, brains will be destroyed, coffin lids will be opened". AUTOPSY 
CD in jewel case within slipcase" - peaceville.com

---
Share this Product
---
More from this collection